Between January and February 2021 alone, Brazilian ports handled more than 174 million tons, a number 9.65% higher than the recorded in the same period last year (ANTAQ).
Out of this amount, the Port of Rio Grande was responsible for 2.6% of the total movements (ANTAQ).
Hence, let's find out more about such important port for Brazil and Mercosur (Southern Common Market).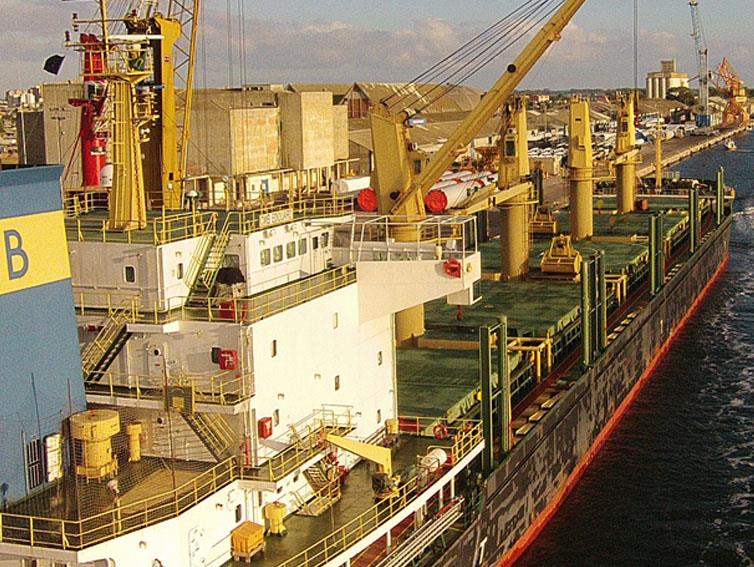 Fonte: http://www.portosrs.com.br/site/public/images/slider05.png
Port of Rio Grande and its geographical location
The Port of Rio Grande is a public maritime port located in Rio Grande city, on the south coast of Rio Grande do Sul (state).
It is the natural outflow of Lagoa dos Patos hydrographic basin, connecting it to the Atlantic Ocean, in addition to being on the west bank of the North Channel.
Its influence and operation are known worldwide, and its installations are of great importance for the states of Rio Grande do Sul and Santa Catarina, as well as for Uruguay, Paraguay and Argentina.
Due to its proximity to the beforementioned countries, the port became internationally known as the Mercosur Port.
The Port administration is made through the Superintendency of Ports of Rio Grande do Sul, linked to the Secretariat of Logistics and Transport of the State of Rio Grande do Sul.
An important highway that leads to the Port is BR-392, which connects it to its hinterland entirely. In Pelotas city, BR-392 reaches BR-116, another extremely important highway in Brazil.
Another way to access the Port is through the southern railroad Sul-Atlântica S/A, a 273km line between the cities of Bagé and Rio Grande, managed by the concessionaire América Latina Logística (ALL).
Besides the Atlantic Ocean, there is also the possibility of accessing the port through Guaíba River and Lagoa dos Patos.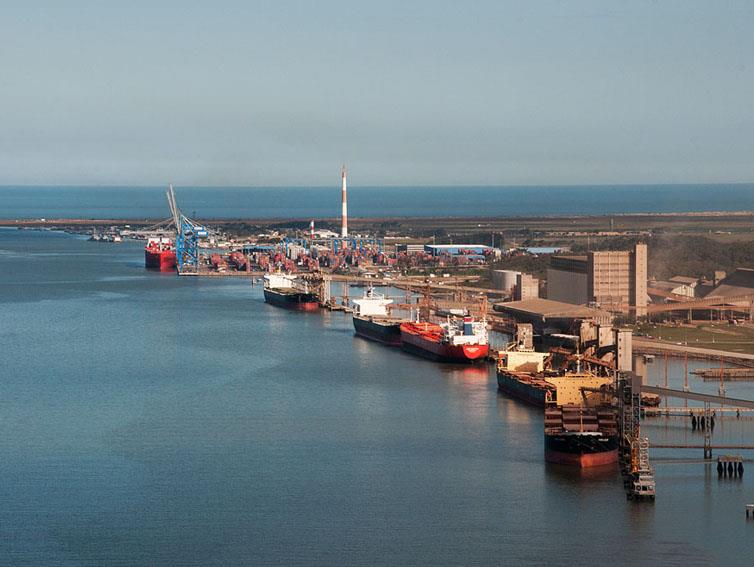 Fonte: https://cdn-pen.nuneshost.com/images/200720-superporto-porto-de-rio-grande.jpg
History of Port of Rio Grande
The port as we know today, also known as Porto Novo do Rio Grande, partially started its operation on November 15th 1915, when the first 500 meters of wharf were released for traffic. The construction project was under the Compagnie Française du Port of Rio Grande do Sul's responsibility, and the constructions had begun in 1910 (later, however, the state government received the incumbency of completing the works by means of the Decree n. 13,691, of July 9th, 1919).
However, in the four decades preceding the beginning of the so-called Porto Novo, the structure of the Porto Velho do Rio Grande has remained in operation since its inauguration (on October 11th, 1872).
In 1951, the port administration was under the Department of Port, Rivers and Channels (DEPRC), until 1997 when a new agreement was signed, this time between the Ministry of Transport and the state of Rio Grande do Sul, creating the Superintendence of the Port of Rio Grande, in charge of the port up to this date.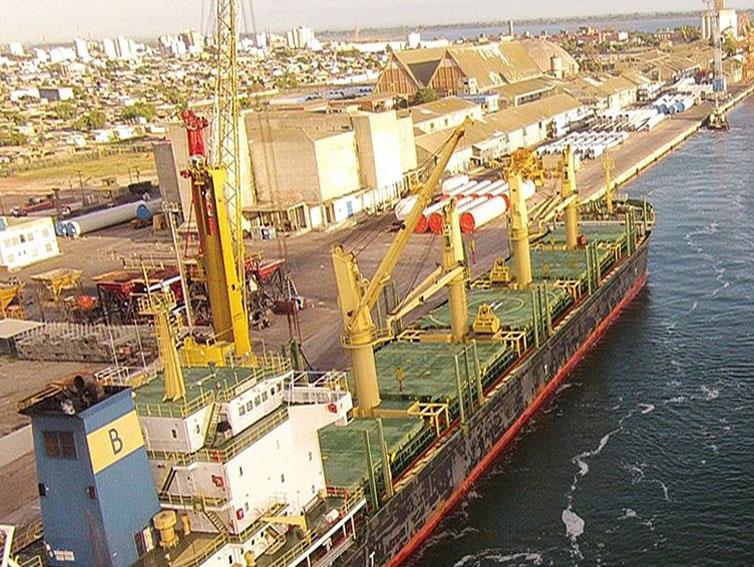 Fonte: http://www.portosrs.com.br/site/public/images/slider01.png
Logistic details of the Port of Rio Grande
The port is considered the second most important for the progress of international trade in Brazil, with a large operational infrastructure.
This can be seen from the constant investments and constructions carried out at the port structure, always seeking to attend to the internationally required standards.
As for professional composition, there are about 13 port operators and more than 25 customs brokers, as well as the presence of remarkable agencies such as Hamburg Sud Brasil, Maersk Brasil and MSC.
In terms of numbers, in the first two months of 2021 alone, the port handled 3.3 million tons of cargo (1.4 million imported and 1.9 million exported), 12.86% higher than the registered in the same period in 2020 (ANTAQ).
The imports were mainly from Argentina, China, Russia and the United States, while the main export destinations were China, Vietnam, South Korea and Morocco, as can be seen below.

Fonte: http://www.portosrs.com.br/site/public/uploads/site/estatisticas/184.pdf
As for the cargo aspects, more than 1.9 million tons (36.2%) were transported in containers, 946 thousand tons (28.6%) were as solid bulk and 766 thousand tons (23.2%) were classified as general cargo (ANTAQ).
There was a great number of cereals (18.4%), wood pulp (15.7%), mineral fuels (8.2%) and manure or fertilizers (7.1%) shipped in and out (ANTAQ).
Facilities of the Port of Rio Grande
The area of the Port of Rio Grande corresponds to the land installations located on the right bank of the North Channel, which comprehends the quays, docks, warehouses, yards, and buildings in general.
The port also has a protection infrastructure and waterway access, which includes the evolution basins and the access channels that extend to the margin.
In total, there are three distinct areas of service to navigation.
Porto Velho, where there are 1 terminal for farm related products, 2 terminals for building material loading, teaching and research activities, tourist activities, industrial and fishing activities, plus a wharf area of 4,680m² and 5 warehouses.
Porto Novo, that has a pier 1,952m long, 11 berths and 10 meters deep.
Within the area destined for solid bulk, there is 1 berth where Cesa terminal is located, used for the storage of soybeans, corn, wheat and barley, which capacity is up to 60 thousand tons.
The roll-on and roll-off area, which serves General Motors do Brasil to import and export vehicles, there are 3 warehouses equivalent to an area of 12,000m², another 3 that together sums 9,000m² and a 136,000m² yard.
Porto Novo also has an area for general cargo, with 8 warehouses whose capacity varies between 2,000m² and 4,000m² each, in addition to a bulk handling area where Samrig facilities are located.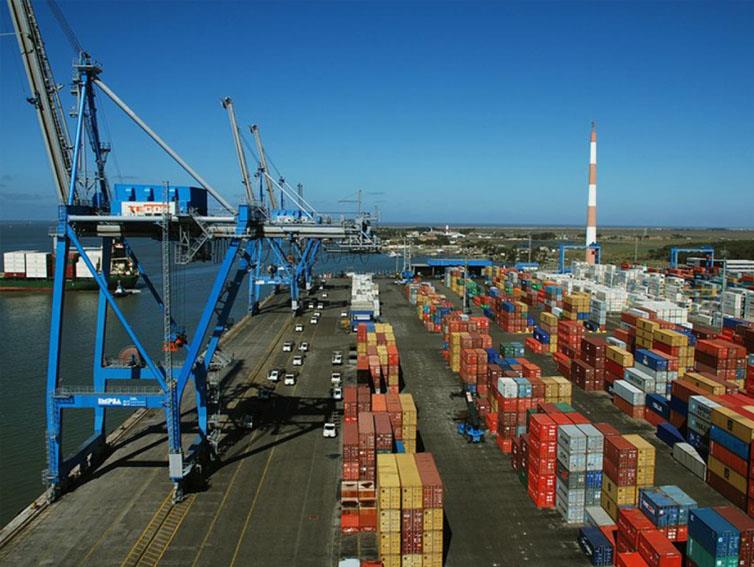 Fonte: https://www.diariopopular.com.br/economia/porto-de-rio-grande-registra-recorde-de-movimentacao-153941/index.php?type=img&id=MjU1ODI4&thumb=sim&x=1280&cache=sim&2
The most recent installation, Superporto, has a 1,552-meter pier and specialized terminals.
In the place where loading and unloading of oil and fertilizers occurs there are many terminals, such as Copesul (40,000m³ capacity), Petrobrás (22,500m³ capacity), Trevo Operadora (42,000m³ capacity) and Amoniasul (capacity of 25,300m³).
Inside the area built for the movement of agricultural products, Bunge Alimentos S.A. terminals (2 bulk warehouses totaling 42,000 m²) and Bianchini S.A. terminals (3 bulk warehouses totaling 77,000 m²) are located.
Superporto also has a loading and unloading area for containers, where Tecon Rio Grande S.A. terminals are installed (670,000m²), with an equipped dock, a warehouse and yard.
Finally, Leal Santos Pescado S.A. terminal is installed in the fish handling area, backed with storage area and cold rooms.
Final considerations
What are your thoughts after getting to know so much about Port of Rio Grande? Did you imagine that it was a port with such structure and importance for Brazil? Leave us a comment about your thoughts and considerations too…
And if you need any assistance to negotiate with Brazilian importers, we are at your entire disposal, feel free to contact us anytime!