Brazil, a country that plays an important role in the world trade and has the biggest ports of the continent and the world, has a variety of terminals in operation, either public or private.
Among Brazilian private ports, we can highlight Porto Itapoá, located in Santa Catarina state.
Despite being a new port, in activity only since 2011, Porto Itapoá is already one of the most efficient ports in Latin América and the third largest in Brazil regarding container movement.
Currently its movement capacity is about 1.2MI TEUs per year. Nonetheless, the port in going through an expansion project and soon hopes to achieve 2MI TEUs capacity yearly.
Hence, shall we find out more about Porto Itapoá's features and history?
Porto Itapoá and its geographical location
Porto Itapoá is located on the north coast of Santa Catarina, in Itapoá city.
Its position is strategical and puts itself in one of Brazil's most productive regions that covers importers and exporters of several areas which cargos and clients are not only from Santa Catarina, but Paraná state as well.
The southern region of Brazil where Porto Itapoá is located has a great economic activity focused in agricultural sector, therefore, the main products handled are commodities such as soy and rice, as well as poultry, pork, and beef.
However, the port operations are not limited to such segments. It is also responsible for operating products from the wood and paper industry, as well as automobiles and textile products.
Another majeure factor is Itapoá city location, that lies on the way between the two largest metropolitan areas in the region:
Joinville, 80km to the south and the most industrialized city in Santa Catarina.
Curitiba, 140km to the north, the capital and largest city in Paraná state.
As for access to the port, SC-416 highway (inaugurated in 2012) is a direct connection to BR-101, a federal highway that crosses Brazil's coast, from south to northeast entirely.
Such connection between both state and federal highways, moreover, takes place without any interference in the city's urban perimeter, allowing the swift movement of people and goods.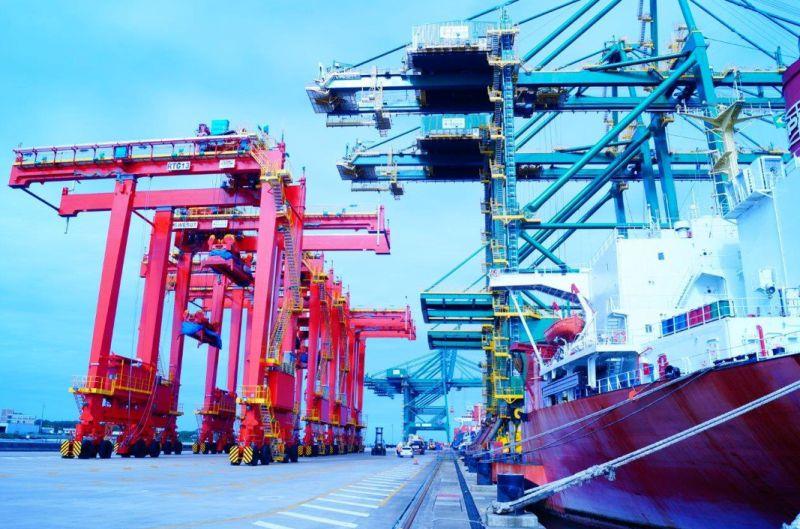 Babitonga Bay
Porto Itapoá scores another important point to its success due to its strategical location in Babitonga Bay, that allows safe conditions and facilitate the berthing of ships.
The bay is considered one of the greatest port assets of the country, ideal to receive large-scale vessels, due to its calm and deep waters that minimize the risks of delays. Without mentioning the fact that it is a large bay that allows the entrance and exit of ships simultaneously.
Such features, besides helping agile and safe operations, also exempt great public investments to maintain the navigability conditions of the bay.
History of Porto Itapoá
As we know, Porto Itapoá began its operation in 2011, however the road up to this moment was long.
In 1993, Battistella Group choose Itapoá city to build a private terminal port, due to Babitonga Bay's favorable conditions.
So, the Group was responsible for the design and execution of the project. In 2007 the works began and Porto Itapoá gave the first step into a history of success. Years later, in 2011, the first ship docked in the bay.
In 2013 the port reached the mark of 1 thousand ships docked at the terminal and in 2014 reached 1MI TEUs operated.
Seven years after its first ship, the port went through a huge process of expansion (in 2018), resulting in a 100 thousand square meters yard and a 170 meters wharf.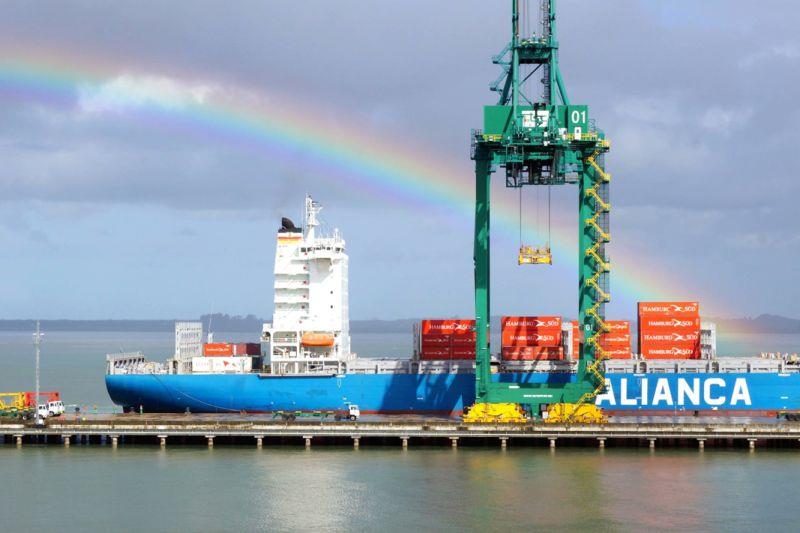 Porto Itapoá administration
The port is currently managed by two partners: Portinvest Participações S.A. and Aliança Administração de Imóveis e Participações Ltd.
Porto Sul and LOG-Z (Logística Brasil S.A.) share Portinvest's quotes that holds control on 70% of the terminal's shares.
The remaining 30% are under Aliança Administração de Imóveis, connected to Aliança Navegação e Logística that, by its turn, belongs to Maersk/Hamburg Süd Group.
See the chart below for better comprehension.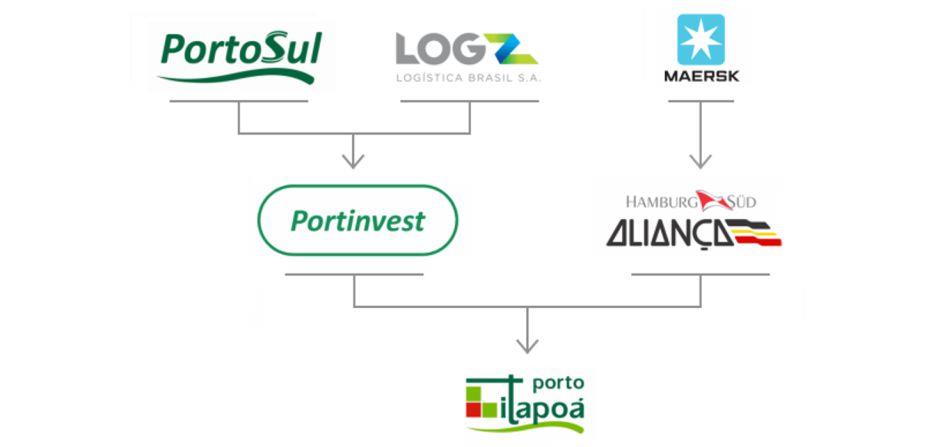 Logistic details of Porto Itapoá
When the port began operations June 2011, the largest ships arriving in Brazil were about 300m long, the ones called Super-Post-Panamax.
The structure of Porto Itapoá has always placed this model of ship as a priority, and it has focused to increasingly operate larger vessels.
In fact, since 2019 the largest ships already exceeded 330m in length.
As for its infrastructure, there are in the port 2 berths measuring 800m and 43m. Its draft is 336m depth at max.
In addition, the terminal has a yard area of 250,000m² and an annual handling capacity of 1.2MI TEUs.
However, after the most recent expansions taking place right now, the yard area will have 455,000m² and the terminal will be able to handle 2MI TEUs per year.
Porto Itapoá is equipped with more than 2,800 reefer outlets and a cold chamber for cargo storage that requires low temperatures.
Over the first trimester of 2021, Porto Itapoá handled more than 2 million tons, approximately 50% of which were imported and 50% exported fully in containers (ANTAQ).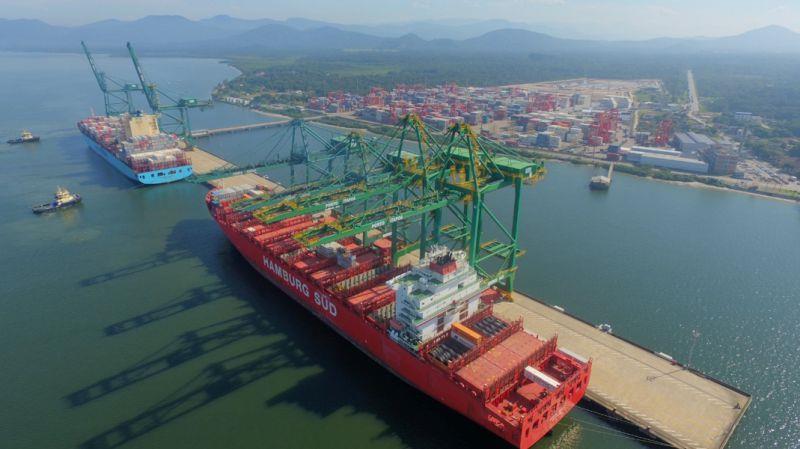 Porto Itapoá develops its own technology
Over two years, 28 professionals hired by the port were involved in the creation of a patented IoT device that became reference in handling containers after its first tests in August 2020 and since its official launch in January 2021.
The device has made possible to move containers between the yard and the wharf, using the Navis Sparcs N4 operating system, and resulted in gains productivity and operational safety.
The technology also allows for synchronized planning controlled in real time and aligned with the ship's schedule.
On top of that, the device enables dynamic allocation of trucks to avoid traffic jams and optimize the flow, in addition to providing real-time productivity control, with automated dashboard and KPI's.
Final Considerations
So, what did you learn about Porto Itapoá? Did you know that even operating for short time it has such importance?
Let's continue this conversation in the comments.